Luxe Dental Spa is the best dentist in New Jersey, and here's why:
We offer comfort
We offer ease
We offer expertise
We offer care and compassion
We offer results
We offer a smile
We understand that the dentist's office is not exactly how you want to spend your time. We go out of our way to ensure your dental experience is pleasurable. From the moment you walk through our front door, you'll be greeted with a smile. You'll have a seat in one of our luxurious massage chairs where you can relax as you wait for your dentist appointment. We take the time to listen to your needs and concerns, and we offer the best dental treatments in New Jersey. Get started today!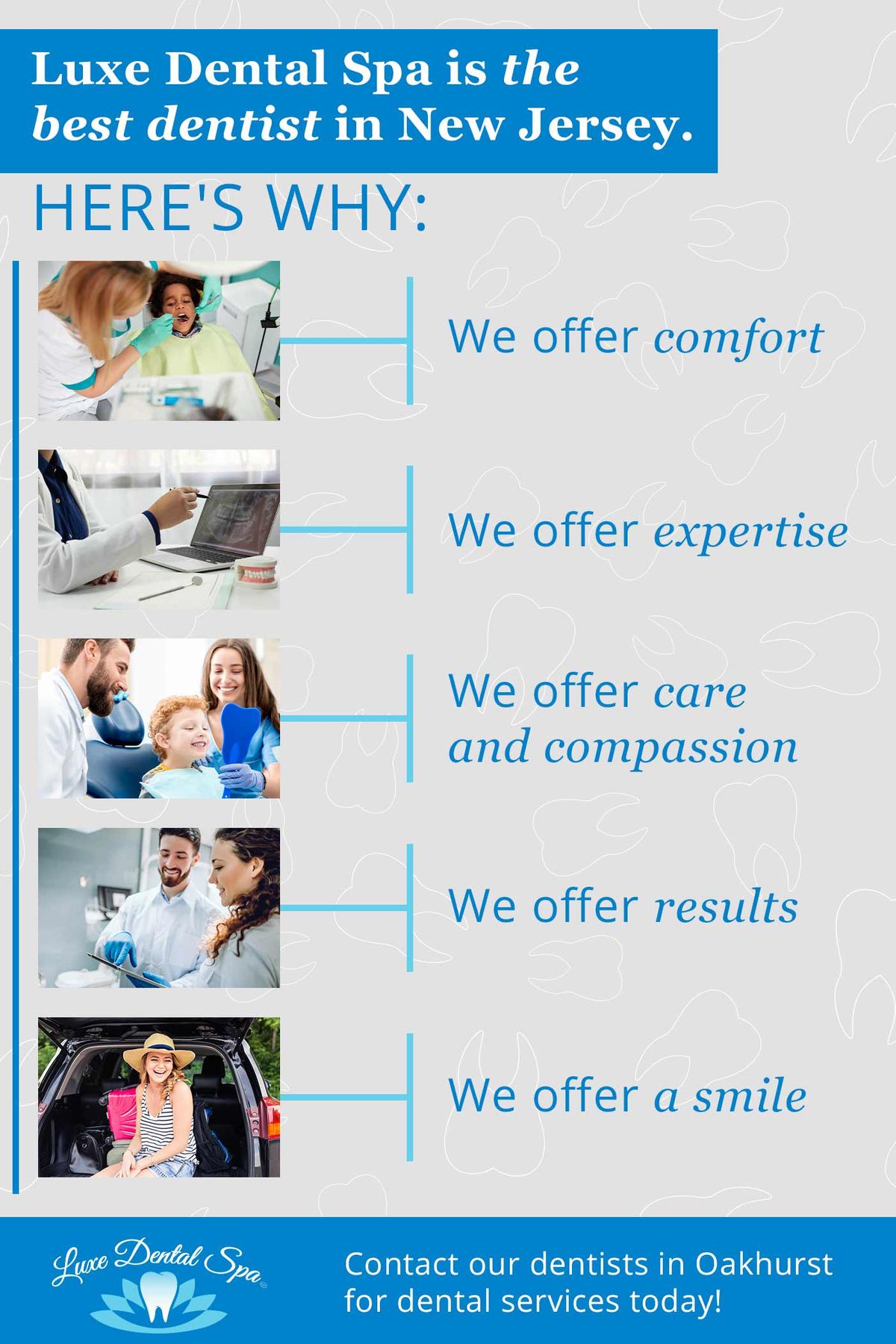 General Dentistry & Preventative Dental Care
Taking care of your teeth is something that should be a habit. After all, you only get one set of adult teeth, and you want to hang onto them. Luxe Dental Spa offers the best in preventative dental care services, such as dental cleanings, X-rays, and fluoride treatments.

Cosmetic Dentistry
Most of us want a great smile, and if your teeth are not aligned or don't look the way you want them to look, you may want to invest in cosmetic dentistry services, which focuses on giving you a great smile you'll love.

Restorations in dentistry are procedures where a tooth is repaired or restored to its previous condition. Restorations are common for broken or fractured teeth, decayed teeth, or for a tooth that has had a root canal.

Periodontal disease focuses on the health of your gums. Your gums are what hold your teeth in your mouth and are thus super important to care for. Periodontal disease can lead to tooth loss, which is not something you wish for.

Invisalign
Invisalign is a very popular dental treatment that is an alternative to traditional braces. It is great for those looking to correct overcrowded teeth, tooth gaps, a crossbite, an underbite, or an overbite. It yields great results without the look of traditional braces.

Teeth Whitening
Teeth whitening is a popular dental procedure that brightens your teeth for a killer smile. Many people have discolored teeth due to many reasons, such as poor dental hygiene, eating and drinking certain foods, or just natural aging of teeth.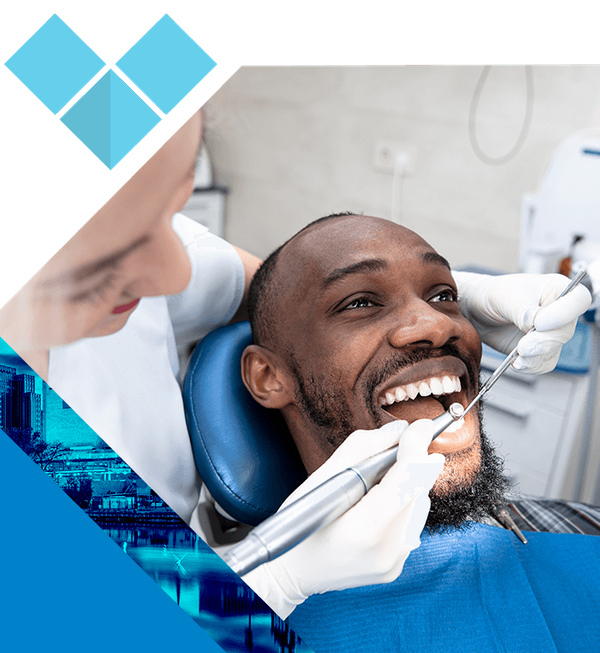 WHY CHOOSE US AS THE BEST DENTIST IN NEW JERSEY?
Here at Luxe Dental Spa, we are the best dentists in New Jersey because we have exceptionally high standards for the dental care we offer our patients. Every one of our patients we treat as family, and we do everything possible to ensure their great oral health. We educate our patients on proper dental care, and we take safety seriously, investing a lot of time and effort in infection control solutions to keep our patients safe. Finally, our dentists in New Jersey have some of the best training and expertise. We continually educate ourselves on the latest in dental technology, and invest in state-of-the-art equipment and technology to improve our dental care.
SCHEDULE YOUR DENTAL APPOINTMENT TODAY
We encourage you to schedule your dental appointment with us here in Oakhurst. We aim to earn our reputation as the best dentists in New Jersey by providing over-the-top dental care every time you step through our door. Our relaxing dental office aims to make you as comfortable as possible and give you a comfortable experience. Let our team help you have the smile you deserve. Call today!
Best Dentist in New Jersey
257 Monmouth Road
Oakhurst, NJ 07755